This is a view looking east from the top of Bury Hill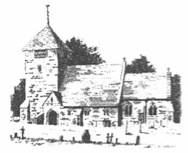 Coldwaltham Church in my village which has the oldest Yew tree said to be 3000 years old

———o0o——-



Another year and some new photos in my railway collection. Some more main line BR photos and some more Isle of Man from my trip there in Summer 1963.

I have added some more Narrow Gauge photos in the Narrow Gauge page.
——————oOo——————
February 2014


I have now added several more photos to the foreign page. These were mostly taken September 1963 and September 1964 on the Railway Correspondence & Travel Society summer tour. The scanned quality of some of the slides is to me disappointing however I hope you find them of interest. I have several more to add including those in Upper Austria at and around Gmund. At Gmund you can still savour a steam narrow gauge run but how long it will remain is anyones guess.


——————oOo——————
November/December 2014


Just added some Australian photos taken in 1962. They are mainly taken at Bunbury which is about 99 miles south of Perth and some at Brunswick Junction which is about halfway and where the line branches to Collie coalfields. Just added a couple of rather poor shots of the NSWGR AD60 garrett in Newcastle. This year one of these has been restored to running order.

Added a new page with photos taken on a BBC Railway Club trip to Norway to film the last days of the full length of the Setesdahl railway, now shortened and open as a tourist railway.

I have just been made aware of David Hey's very comprehensive website consisting of many pages of nostalgic photos and well written text about the final years of steam in Britain. Link here to David Hey's collection.


——————oOo——————
January 2015


Another year! Just scanned another box of slides and added them to the Narrow Gauge gallery, mainly more photos of Linda ex Penrhyn Railway in original condition soon after arriving on the Ffestiniog Railway. The trip on her was the day before her leap, and event known as Linda's Leap (you can google it to read more), by sheer luck no one was hurt mainly due to the prompt action by the driver of Prince which was the train engine behind Linda. Prince had the full braking of the train and was able to stop very quickly.

Some Mac news today, 19 Jan 2015.
MacUser Magazine announced today that they are ceasing publication after Vol 2 which came today (19-Jan-2015). I am assuming that they will keep their web edition. Last year MacWorld closed in the US but the UK version still arrives here. I suppose as we continue to move to the digital world more paper publications will die. Saves trees though.



One of my other interests is in Gauge One model railways.



This is a model of a Caledonian Railway Class 60 - It is a live steam model with meths firing. It is built to ⅜ scale running on 45mm gauge track. The loco is seen here with a train of Caledonian coaches called Grampians.

Volunteering at the Amberley Museum & Heritage Centre is a further interest where I am a member of the Rail Group. If you would like to be involved as a volunteer please use the link in the sidebar to go to the museum's official web site. There is a separate web site which features the Rail Group's activities and I have put a link to this in the sidebar.


——————oOo——————

June 2016

Spent an afternoon adding several photos to the pages. Had some problem configuring Rapidweaver's Publish Dialog. It uploaded correctly in the end when I added a / to the upload path. Before I was uploading to the wrong directory. If anyone else reads this who is using Rapidweaver 7 then contact me for help.


——-oOo——

December 2016

Here are two views of the first Apple Store in Maidenhead which was a branch of TVS Reading. I was manager here from 1986 until the lease expired and the building was redeveloped together with the shop next door (always known to us as the God Shop on account the they sold Biblical literature etc). This was my first job in the computer industry after 27 years as a shipbroker.

——oOo—-





After the lease expired we moved to a crummy place opposite the Bear, and finally to a converted house in Bridge Avenue. This branch was closed in 1990 when Apple sales policy changed with impossible margins of the sale of computer kit.
I then went to work for Systems Support of Cambridge, in their London office, still supporting Apple users and kit.
Systems Support did not rely on hardware sales but on support contracts for complete site maintenance. A much better commercial philosophy.
My few years there were most enjoyable despite having to commute back into London. I enjoyed helping the various clients who numbered a number of household name in publishing.

——————oOo——————

25. August 2018

Added a new page with some photos of ships with which I was connected.
Loaded the upgraded Rapidweaver 8.0.3 - working well!

15 January 2020

Yes its time I did some updating. Dave Fuller, an old friend, sent me some photos of the preserved 310.23 2-6-4 express loco on some special runs in Czech Republic and Austria.

He comments:- I remembered that the 310 occasionally visits Luzna Steam Museum in The Czech Rep, which I visit regularly.
It arrives as a 310 then the locals bolt on the CKD 375 plates!

On the foreign page (see left side bar) there are some pics of it rushing through Revnicov Station with a local 2-8-0 , heading from Luzna to Prague with a train of 4 wheelers, in 2013. Revnicov now has no ticket office, but a few years ago it was unique, in that it was a railway family's home, and had a round cafe table in the booking office and they would sell you a ticket and a bottle of beer which was passed through the ticket window. Thank you Dave!

I remember going to Austria to witness the return to steam of this great loco. There was a two man team who were given the task of looking after it and also driving it.

January 2021
Now using Rapidweaver 8.7